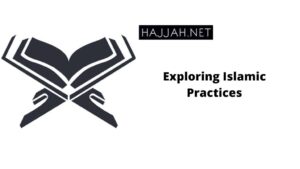 Exploring Islamic Practices – Islam is a religion followed by over a billion people around the world, and it encompasses a wide range of practices and beliefs. From the Five Pillars of Islam to daily prayers and Islamic art, the faith provides a rich tapestry of traditions and rituals. In this article, we will delve into the various Islamic practices that shape the lives of Muslims worldwide.
Introduction
Islam, meaning "submission to God," is a monotheistic religion that originated in the 7th century CE in the Arabian Peninsula. It was revealed to the Prophet Muhammad through the holy book, the Quran. Central to Islamic practices are the Five Pillars of Islam, which serve as the foundation of a Muslim's religious obligations.
The Five Pillars of Islam
The Five Pillars of Islam are fundamental acts of worship that every Muslim is expected to uphold. They include the declaration of faith (Shahada), daily prayers (Salat), giving to charity (Zakat), fasting during Ramadan (Sawm), and the pilgrimage to Mecca (Hajj). Each pillar holds significant spiritual and practical importance in the lives of Muslims.
1. Declaration of Faith (Shahada)
The Shahada is the proclamation of faith in Islam, affirming that there is no deity but Allah and that Muhammad is His messenger. It serves as the entry point into the Islamic faith and is recited by Muslims throughout their lives.
2. Daily Prayers (Salat)
Muslims are obligated to perform five daily prayers, known as Salat, as a way to maintain a strong connection with Allah. These prayers are conducted at specific times of the day and involve physical postures, recitation of verses from the Quran, and supplication.
3. Giving to Charity (Zakat)
Zakat is the act of giving a portion of one's wealth to those in need. It is considered a religious duty and a means of purifying one's wealth. Muslims are required to give a specified percentage of their income and assets to the less fortunate, promoting social welfare and economic justice.
4. Fasting during Ramadan (Sawm)
Ramadan, the ninth month of the Islamic lunar calendar, is a time of fasting and spiritual reflection. Muslims abstain from food, drink, and other physical needs from dawn until sunset. Fasting during Ramadan helps Muslims develop self-discipline, empathy for the less fortunate, and a stronger connection to Allah.
5. Pilgrimage to Mecca (Hajj)
Hajj is a pilgrimage to the holy city of Mecca in Saudi Arabia, and it is an obligation for Muslims who are physically and financially able to undertake the journey. It takes place during the Islamic month of Dhu al-Hijjah and involves a series of rituals that commemorate the life and struggles of the Prophet Abraham and his family.
Daily Prayers
Daily prayers, or Salat, are a vital aspect of Islamic worship. Muslims are required to perform five prayers each day, which are spread out throughout the day and night. These prayers serve as a means of communication with Allah, allowing Muslims to express their gratitude, seek guidance, and find solace.
1. Rituals of Salat
The process of performing Salat involves specific rituals and postures. Before prayer, Muslims cleanse themselves through a ritual called Wudu, which includes washing the face, hands, and feet. The prayer itself consists of standing, bowing, prostrating, and sitting in a specific sequence while reciting verses from the Quran.
2. The Significance of Salat
Salat holds great significance in the lives of Muslims. It serves as a constant reminder of their relationship with Allah and helps maintain spiritual discipline. Through regular prayer, Muslims seek forgiveness, gain strength, and find tranquility amidst the challenges of daily life.
Fasting during Ramadan
One of the most prominent Islamic practices is fasting during the holy month of Ramadan. It is a time of self-reflection, increased devotion, and heightened spirituality for Muslims worldwide.
1. Purpose and Observance
Fasting during Ramadan involves abstaining from food, drink, smoking, and other physical needs from dawn until sunset. The purpose is to purify the soul, attain self-discipline, and empathize with those less fortunate. It is also a time for increased prayer, recitation of the Quran, and charitable acts.
2. Iftar and Suhoor
Each day, Muslims break their fast at sunset with a meal called Iftar. It is a joyous occasion shared with family and friends, often featuring dates and water as a traditional way to break the fast. Before dawn, Muslims partake in Suhoor, a pre-dawn meal, to sustain them throughout the day of fasting.
Giving to Charity
Charity, known as Zakat, is an integral part of Islamic practice. Muslims are encouraged to give a portion of their wealth to support those in need and promote social welfare.
1. Purpose and Calculation
Zakat serves multiple purposes, including the purification of wealth, fostering empathy, and addressing economic inequality. It is calculated based on the value of one's assets and income, with a specified percentage allocated for charitable giving. The funds are distributed to various recipients, such as the poor, orphans, and the elderly.
2. Sadaqah: Voluntary Giving
In addition to Zakat, Muslims are encouraged to engage in Sadaqah, voluntary acts of charity that go beyond the obligatory giving. Sadaqah can take various forms, including monetary contributions, donating goods, or offering one's time and skills to benefit the community.
Pilgrimage to Mecca
The pilgrimage to Mecca, known as Hajj, is a significant event in the life of a Muslim. It is a spiritual journey to the holiest site in Islam and is considered one of the Five Pillars.
1. Rituals of Hajj
During Hajj, pilgrims engage in a series of rituals that commemorate the actions and sacrifices of the Prophet Abraham and his family. These rituals include circling the Kaaba, walking between the hills of Safa and Marwa, standing in Arafat, and symbolically stoning the devil.
2. Unity and Equality
Hajj emphasizes the concepts of unity and equality among Muslims. Pilgrims from all walks of life, regardless of their social status or nationality, gather together as equals, dressed in simple white garments. This experience reinforces the importance of brotherhood and sisterhood in Islam, transcending barriers of wealth, race, and nationality.
3. Spiritual Transformation
Hajj is a transformative experience for many pilgrims. It offers an opportunity for self-reflection, repentance, and seeking forgiveness. The spiritual energy and devotion that permeate the pilgrimage help strengthen one's faith and foster a deeper connection with Allah.
Islamic Holidays
Islamic holidays hold special significance in the lives of Muslims. They are occasions for celebration, worship, and reflection.
1. Eid al-Fitr
Eid al-Fitr marks the end of Ramadan, a joyous celebration that brings Muslims together to break their fast and express gratitude for the blessings received during the holy month. It is a time of feasting, prayer, and giving thanks to Allah for the strength to complete the fast.
2. Eid al-Adha
Eid al-Adha commemorates the willingness of the Prophet Abraham to sacrifice his son as an act of obedience to Allah. It is a time of sacrifice, both in the form of offering an animal and sacrificing personal desires for the sake of Allah. Muslims gather for prayers, share meals, and engage in acts of charity during this holiday.
Dress Code
Islamic dress code, particularly for women, is an essential aspect of practicing the faith. It reflects modesty, humility, and adherence to Islamic values.
1. Hijab
The Hijab, a headscarf worn by many Muslim women, represents the modesty and dignity mandated by Islamic teachings. It covers the hair, neck, and shoulders, while allowing the face to be visible. Hijab styles vary across different cultures and personal preferences.
2. Modest Clothing
Modesty in dress extends beyond the Hijab. Muslim men and women are encouraged to dress modestly, avoiding clothing that is tight, revealing, or excessively flashy. This includes loose-fitting garments that cover the body appropriately, such as long sleeves, pants, or dresses.
Islamic Dietary Restrictions
Islamic dietary restrictions, known as Halal, govern what Muslims can consume. These guidelines stem from the Quran and teachings of the Prophet Muhammad.
1. Prohibited Foods
Muslims are prohibited from consuming pork, alcohol, blood, and meat from animals not slaughtered in the name of Allah. Additionally, any food or drink containing ingredients derived from prohibited sources is also considered Haram (forbidden).
2. Halal Certification
To ensure compliance with Halal requirements, many food products and restaurants seek Halal certification. This certification ensures that the food is prepared and processed according to Islamic dietary guidelines, giving Muslims confidence in its suitability for consumption.
The Role of Women in Islam
The role of women in Islam is a topic often discussed and debated. Islam promotes the equality and dignity of women, while recognizing their unique roles and responsibilities.
1. Spiritual Equality
Islam emphasizes the spiritual equality of men and women. Both are considered equal in the sight of Allah, with the opportunity to seek knowledge, engage in worship, and attain spiritual growth.
2. Roles and Rights
While Islam recognizes the distinct roles and responsibilities of men and women, it emphasizes the importance of mutual respect, cooperation, and support within families and society. Women have rights to education, property ownership, inheritance, and the freedom to pursue careers and contribute to society.
Islamic Finance
Islamic finance is a unique system that operates within the framework of Islamic principles, prohibiting interest (riba) and promoting ethical financial practices.
1. Prohibition of Riba
Islam prohibits the charging or paying of interest, considering it exploitative and harmful. Instead, Islamic finance encourages profit-sharing arrangements, partnerships, and asset-based transactions that promote fairness and risk-sharing.
2. Sharia-Compliant Products
Islamic financial institutions offer a range of Sharia-compliant products, such as Islamic banking, Islamic bonds (sukuk), and Islamic insurance (Takaful). These products adhere to Islamic principles while providing financial services to individuals and businesses.
Islamic Art and Calligraphy
Islamic art and calligraphy hold a prominent place in Islamic culture, reflecting the beauty and spirituality of the faith.
1. Ornate Designs and Geometric Patterns
Islamic art is characterized by intricate designs, geometric patterns, and arabesque motifs. These artistic expressions can be found in architecture, manuscripts, textiles, ceramics, and metalwork, among other forms.
2. Calligraphy as Sacred Art
Calligraphy is highly revered in Islamic art, as it represents the written word of Allah. Arabic script is transformed into visually stunning compositions, adorning mosques, Qurans, and decorative objects. It is a way of expressing devotion and conveying the spiritual significance of the written word.
Islamic Architecture
Islamic architecture showcases the unique blend of artistic creativity and religious devotion, with distinct features found in mosques, mausoleums, and palaces.
1. Mosque Architecture
Mosques serve as places of worship and community gathering. They feature architectural elements such as domes, minarets, prayer halls, and courtyards. The design of mosques varies across different regions, showcasing diverse cultural influences.
2. Mausoleums and Palaces
Islamic architecture is also evident in mausoleums, which honor religious figures, and palaces that reflect the grandeur of Islamic dynasties. These structures often exhibit intricate carvings, decorative tilework, and elaborate gardens.
Education in Islam
Education holds significant importance in Islam, promoting the pursuit of knowledge, critical thinking, and personal development.
1. Emphasis on Learning
Islam encourages believers to seek knowledge from cradle to grave. The first word revealed in the Quran was "Iqra," meaning "Read." Muslims are urged to seek education in various fields, including religious studies, sciences, arts, and humanities.
2. Islamic Institutions of Learning
Throughout history, Islamic scholars have established institutions of learning, such as madrasas and universities, to educate individuals in Islamic theology, jurisprudence, philosophy, and other disciplines. These institutions have played a vital role in preserving and advancing knowledge.
Conclusion
Exploring Islamic practices reveals a diverse and vibrant tapestry of rituals, beliefs, and traditions that shape the lives of Muslims worldwide. From the foundational Five Pillars of Islam to the beauty of Islamic art and the pursuit of knowledge, Islam encompasses a holistic approach to spirituality, community, and personal growth.